Leybold SCROLLVAC SC and Ulvac DIS Dry Scroll Pumps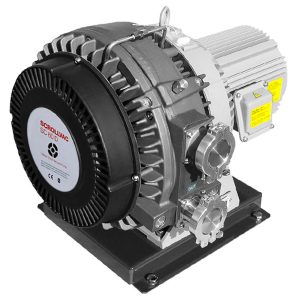 SynSysCo is a global distributor and an authorized rebuild center for all Anest Iwata-manufactured scroll vacuum pumps which includes the Leybold SC 5D, SC 15D, SC 30D, and SC 60D SCROLLVAC pumps. Anest Iwata is no longer manufacturing the above pumps for Leybold, however they are replaced by Anest Iwata's own models the ISP-50, ISP-90, ISP250, ISP-500 and ISP-1000.
All Anest Iwata manufactured pumps, which include the Leybold ScrollVac oil-free dry scroll pumps,  are a modern, oil-free vacuum pump. They are inexpensive to operate, offer high performance, and come in a compact design. The tip-seal material requires less maintenance than foam backed tip-seals used on other dry scroll pumps. Leybold SC series dry scroll vacuum pumps are a great option to consider when upgrading from other vacuum pumps such as an oil-sealed rotary vane pump.
Modern oil-free scroll vacuum pumps offer faster pumping speeds and leak detectors. Upgrading allows you to avoid issues common with wet vacuum pumps, such as oil changes, exhaust oil filters, used waste oil disposal, and oil leaks.
If your requirements are for 20 or more pump repairs per year, you are eligible for our 2021 Premier Service and Support Program, which offers exclusive pricing, warranties and spare pump backup services.
Who Benefits from the 2021 Premier Service and Support Program?
End-users with a large installed base of scroll pumps
OEM's using dry scroll pumps or servicing them for their equipment customers
Read more about this program here.
Features and Benefits of this Program
Globally competitive purchase and repair pricing
15-month warranty on repairs
21-day guaranteed door-to-door turn-around on repairs
Buy-back program for your spare pumps
Leybold SCROLLVAC SC and Ulvac DIS Dry Scroll Pumps
Leybold and Ulvac dry scroll pumps are manufactured by Anest Iwata. SynSysCo is an Anest Iwata authorized rebuild facility, and rebuilds and maintains Leybold and Ulvac Dry Scroll Pumps.
Benefits of Oil-Free Pumping
Tired of oil mist, back migration, and difficult maintenance? Consider an upgrade to a Oil-Free Scroll vacuum pump. Rotary vane pumps use lubricant oil for seals, which exhausts to the atmosphere – outside the pump – polluting the air in the pump room.
ISP Oil-Free Scroll pumps contain no lubricating oil or sealing water. By eliminating back migration, the ISP Oil-Free Scroll pump eliminates the potential for vacuum chamber contamination.
The lubricant oil used for rotary vane pumps evaporates near ultimate pressure (depending on the type of oil used). This oil vapor migrates from high to low pressure, causing back migration into the vacuum chamber. A vacuum chamber polluted with oil vapor decreases the ultimate pressure available and can no longer function as a clean space.
Benefits of the ISP Design from Anest Iwata
Oil-Free Scroll pumps are clean. No particles and/or gas molecules can be sucked into the lubricant oil to deteriorate the oil because there is no oil. Oil-free scroll pumps eliminate the oil pollution and smell that accompany oil-sealed pumps by using leak detection. And they put an end to the increased costs and worry about proper disposal of waste oil.
Each revolution of the pump provides a continuous process of suction, compression, and discharge. This results in minimal pulsation, virtually no vibration and quiet operation. The ISP's smooth and highly balanced operating mechanism requires low starting torque and generates minimal heat while operating the compressors.
Our Commitment to Our Customers
SynSysCo is an authorized rebuilder for the new products it sells.   SynSysCo provides a 15-month warranty on all versions of Anest Iwata Scroll Pumps. Private Labeled OEM Versions of the Anest Iwata Scroll pumps include Leybold SC 15d Series, Leybold Scrollvac SC5D, Ulvac DIS and DISL Series, Edwards ESDP Series and GVSP Series, Varian DS Series.
Rebuilding Authorized Products
Parts are inspected against Authorized OEM factory tolerances and replaced as needed. The latest component upgrades are made, and products are reassembled using OEM parts, OEM production methods and OEM tooling. Final acceptance testing is performed using OEM factory approved processes and calibrated NIST traceable vacuum measurement equipment.
For pricing and answers to your questions, please call our Service Department at 866-DRY-PUMP (866-379-7867)