OMNI® Helium Compressors integrate Sumitomo Cryogenics Marathon® Cryopumps with other cryopump systems to provide OEM and end user with new possibilities in system performance, value and support.
For end users, OMNI® Helium Compressors are excellent replacement units for legacy helium compressors in coating, 200mm semiconductor and a variety of other industrial and R&D applications. OMNI® Helium Compressors drive Sumitomo Marathon® Cryopumps, CTI CryoTorr®, CTI OnBoard® and Trillium CryoPlex® Cryopumps on the same tool at the same time.
OMNI® compressors are made in the USA — patents pending
OMNI® compressors drive multiple cryogenic pumps, made by different manufacturers, at the same time on the same tool.
OMNI® compressors drive standard pumps and auto-regen pumps at the same time.
OMNI® compressors have the electrical components, communication components, and helium supply components to simultaneously operate cryogenic pumps of different manufacturers — either as a singular group by manufacturer, or by mixing cryogenic pumps of multiple manufacturers on the same application.
OMNI® compressors are available in air-cooled and water-cooled versions.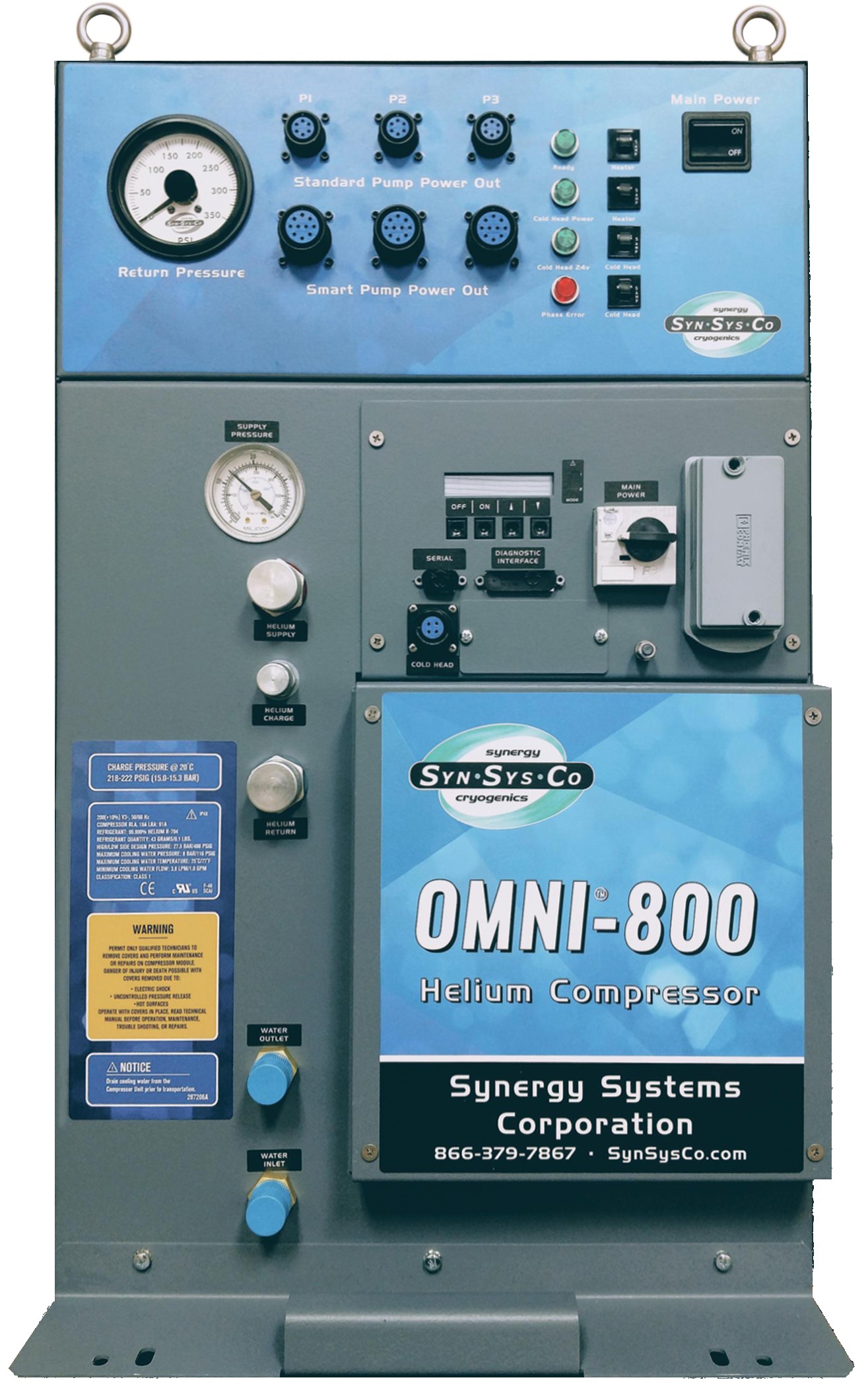 Compressor Model
OMNI-100
Air-Cooled
OMNI-100
Water-Cooled
OMNI-800
Air-Cooled
OMNI-800
Water-Cooled
OMNI-900
Air-Cooled Split System
Compressor and Cooling Fan Unit
designed for outdoors,
Control Unit for indoors
OMNI-900
Water-Cooled
OMNI-1000
Water-Cooled
Electrical Supply
Single Phase
20 AMP
200-230VAC
50/60 Hz
Single Phase
20 AMP
200-230VAC
50/60 Hz
3-Phase
25 AMP
200-230VAC
50/60 Hz
3-Phase
25 AMP
200-230VAC
50/60 Hz
3-Phase
30 AMP
200-230VAC
50/60 Hz
3-Phase
30 AMP
200-230VAC
50/60 Hz
3-Phase
40 AMP
200-230VAC
50/60 Hz
Power Consumption
2.25 kW @ 50 Hz
2.6 kW @ 60 Hz
2.1 kW @ 50 Hz
2.1 kW @ 60 Hz
3.6-4.4 @ 50 Hz
4.6-5.4 kW @ 60 Hz
3.6-4.3 @ 50 Hz
4.6-5.2 kW @ 60 Hz
7.5-8.0 kW @ 50 Hz
8.5-9.2 kW @ 60 Hz
6.6-6.9 kW @ 50 Hz
7.5-7.8 kW @ 60 Hz
6.7-7.2 kW @ 50Hz
7.5-8.5 kW @ 60 Hz
Ambient Temperature
4- 40°C: (40 -104F)
4- 40°C: (40 -90F)
4-38°C (40-100°F)
4-40°C (40-104°F)
5-35°C (41-95°F) Indoor unit
30-45°C (22-113°F) Outdoor unit
4-40°C (40-104°F)
4-40°C (40-104°F)
Dimensions: HxWxD
876 x 443 x 453 mm
34.5 x 17.5 x 17.8 in.
617 x 443 x 453 mm
24.3 x 17.5 x 17.8 in.
889 x 442 x 493 mm
35 x 17.4 x 19.4 in.
624 x 444.5 x 528.4 mm
24.6 x 17.5 x 20.8 in
24.8 x 10.6 x 22.4 in. Indoor
???? Outdoor
624 x 444.5 x 528.4 mm
24.6 x 17.5 x 20.8 in.
625 x 444.5 x 528.4 mm
24.6 x 17.5 x 20.8 in.
Weight
102 kg (225 lbs)
82 kg (180 lbs)
110 kg (242 lbs)
96 kg (212 lbs)
45 kg (95 lbs) Indoor unit
115 kg (254 lbs) Outdoor unit
100 kg (220 lbs)
101 kg (220 lbs)
Adsorber Change
30,000 hrs. (~ 42 mo.)
30,000 hrs. (~ 42 mo.)
30,000 hrs. (~ 42 mo.)
30,000 hrs. (~ 42 mo.)
30,000 hrs. (~ 42 mo.)
30,000 hrs. (~ 42 mo.)
30,000 hrs. (~ 42 mo.)
For pricing and answers to your questions,
please call our Sales Department at 866-DRY-PUMP (866-379-7867)