SynSysCo dry vacuum pumps deliver dry, clean, and safe vacuum solutions engineered for the demands of high technology and industrial environments. Our dry vacuum pumps are some of the most reliable and highly efficient vacuum systems on the market today.
Dry vacuum pumps offer advantages over traditional vacuum pump designs. Additionally, since there is no oil or water in contact with the process vapors, they are environmentally friendly as well.
Benefits of Oil-Free Pumping
Tired of oil mist, back migration, and difficult maintenance? Consider an upgrade to a oil-less scroll or multilobe vacuum pump. Oil based rotary pumps use lubricant oil for sealing which exhausts to the atmosphere polluting the air in the pump room. Oil-free scroll, multilobe and screw pumps contain no lubricating oil or sealing water. The lubrication used for rotary vane pumps evaporates near ultimate pressure (depending on the type of oil used). This oil vapor migrates from high to low pressure, causing back migration into the vacuum chamber. A vacuum chamber polluted with oil vapor decreases the ultimate pressure available and can no longer function as a clean space.
Benefits of the ISP design from Anest Iwata and the multilobe and screw designs from Kashiyama include simpler maintenance and a cleaner experience. No particles or gas molecules can be sucked into the lubricant oil to deteriorate the oil because there is no oil. Oil-free scroll pumps eliminate the oil pollution and smell that accompany oil-sealed pumps. And they put an end to the increased costs and worry about proper disposal of waste oil.
The pump designs provide a continuous process of suction, compression, and discharge. The result is minimal pulsation, virtually no vibration and quiet operation. These pumps high efficiency provide a smooth and highly balanced operating mechanism with low starting torque and minimal heat generation while operating. Low power consumption and heat generation helps attain your ISO 14,000 goals by conserving energy and placing a minimal load on your air conditioning system.
The lightweight, compact, and air-cooled designs permit a variety of uses not feasible with traditional vacuum pumps. And recent engineering advances improve durability, extend maintenance intervals, and evacuation performance of light gasses, water vapor, and small particles.
Air-Cooled Inert Gas Vacuum Pumps
Scroll Labs Pumps are an excellent choice to replace diaphragm vacuum pumps in virtually all vacuum applications including OEM equipment, laboratory, R&D, medical equipment, GCMS, LCMS, and freeze drying.
Kashiyama NeoDry Pumps are an excellent alternative to rotary vane wet pumps and dry scroll pumps where dry inert gas, high moisture content inert gas, or mildly aggressive gasses require oil-free pumping. The NeoDry Series, with pumping speeds of 110, 250, 500 and 600, 1000, 1670 and 5,000 liters3/min, does not require cooling water or nitrogen purge.
Anest Iwata invented the dry scroll pump and they are air-cooled, do not require nitrogen purge, and provide clean pumping at low capital cost. The unique patented balance design overcomes problems associated with other scroll pumps such as low Mean Time Between Failure, vibration, tip seal particle generation and premature bearing failure. Anest Iwata's modular design provides for quick on-site module exchanges when maintenance is needed.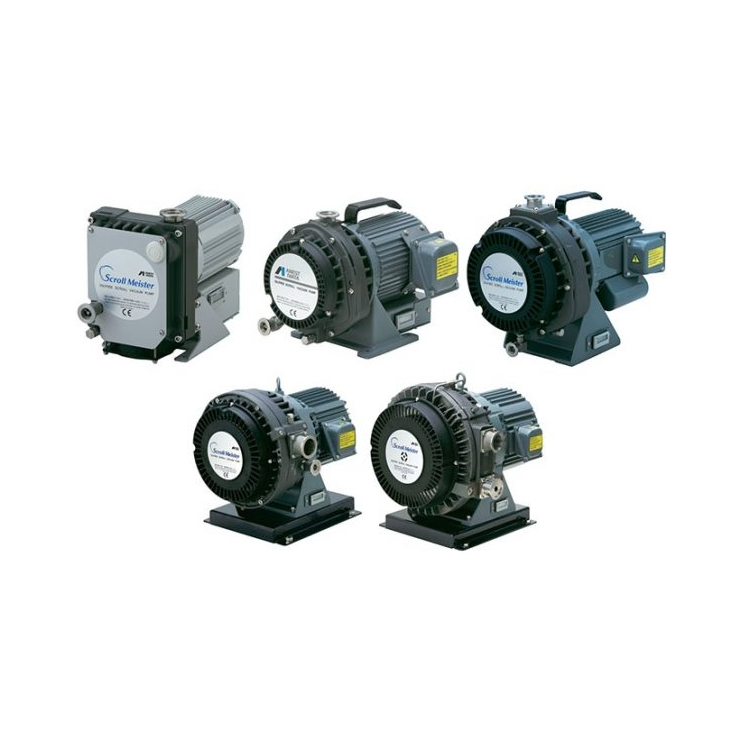 Water Cooled Dry Vacuum Pumps
Water Cooled, Inert Gas
The Kashiyama MU-X series pumps offer the following benefits:
Roots dry pump achieved smallest energy consumption (0.35kW) and small footprint in the category.
Applicable for various tools.
Best for clean pumping such as L/L and transfer chamber, etc.
Water Cooled, Medium Duty
The Kashiyama MU-P/H series pumps offer the following benefits:
Roots dry pump good in process durability and low power consumption (0.7kW).
Applicable to wide range of process from light to medium duty. *1
Hot N2 purge available to enhance process durability. [MU-H Series]
Water Cooled, Harsh Duty
The Kashiyama SDE-TX series pumps offer the following benefits:
SDE Series Focused on Harsh Process Durability
Vertical screw: durable against corrosive deposits.
Material and temperature setting: durable against corrosion.
Large Screw Pumps
SynSysCo provides eight distinct models with pumping speeds from 150 M3/Hr. to 3,000 M3/Hr. Let us help you bring the advantages of dry vacuum pumping to your industrial process application:
Environmentally Clean and Safe – Eliminates the cost and hazard of frequent oil changes, workplace oil misting and hazardous waste disposal.
Improved Cost of Ownership – Quiet and clean dry vacuum pumps reduce ambient noise and maintenance requirements.
Stable Performance – SDS Dry Vacuum Pumps can operate continuously at any pressure point from atmosphere to their ultimate base pressure.
Durable – Dry screw vacuum pumps have a very high-capacity to handle process dust and particles.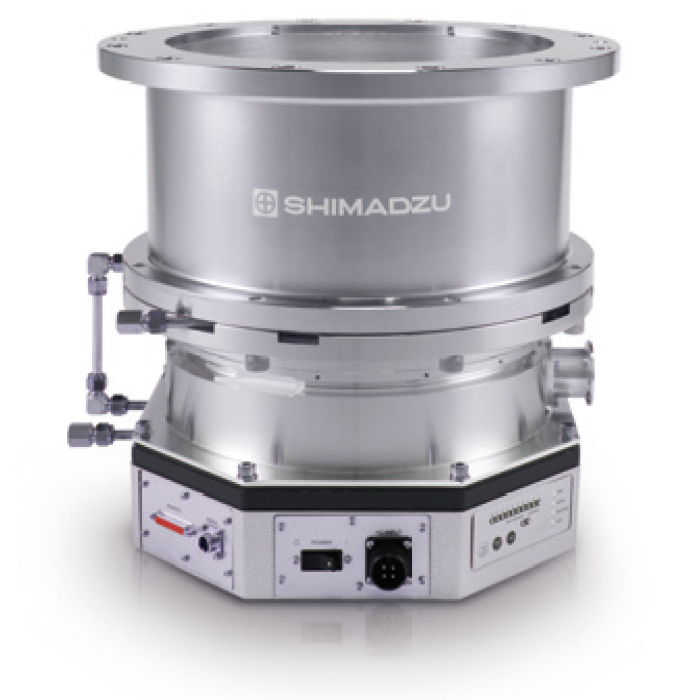 Turbo Molecular Pumps
Turbo Molecular Pumps (TMP) create the vacuum environment that is indispensable for the manufacturing processes of solar cells and semiconductors. Boasting the highest level of exhaust capacity in the world, Shimadzu's high vacuum product lineup is designed to meet the layer deposition and fabrication and filtration requirements of solar cell modules and silicon wafers, both of which are becoming increasingly large.
Cryogenic Pumps
Cryopumps provide fast, clean pumping of all gases in the 10−3 to 10−9 Torr range. Cryopumps operates on the principle that gases can be condensed and held at extremely low vapor pressures, thus achieving high speeds and throughputs. The cold head consists of a two-stage cold head cylinder (part of the vacuum vessel) and a drive unit displacer assembly. These together produce closed-cycle refrigeration at temperatures that typically range from 60 to 80K for the first-stage cold station to 10 to 20K for the second-stage cold station.
Some cryopumps have multiple stages at various low temperatures, with the outer stages shielding the coldest inner stages. The outer stages condense high boiling point gases such as water, thus saving the surface area and refrigeration capacity of the inner stages for lower boiling point gases such as oxygen and nitrogen. When the stage are coated with adsorption materials such as carbon, the pump will also trap light gasses such as hydrogen.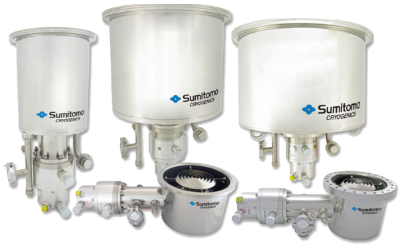 Maintenance Services
SynSysCo is an authorized rebuild center for all Anest Iwata manufactured scroll pumps, and as such, can rebuild all of the listed models.  SynSysCo rebuilds Leybold SCROLLVAC SC Scroll pumps as well as Ulvac DIS, Varian DS, and Edwards GVSP and ESDP scroll pumps.
You can trust SynSysCo to provide the best scroll pump repair services. Our rebuild warranty is for 24 months or 12,000 running hours, whichever occurs first.
SynSysCo's approach to product repair and overhaul is to achieve the original performance specification of the product.
Parts are inspected against OEM factory part tolerances and replaced as needed.
The latest component and software upgrades are made, and products are reassembled using OEM parts, production methods and tooling.
Final acceptance testing is performed to ensure a match to new performance criteria using OEM factory approved processes and calibrated and NIST traceable vacuum measurement equipment.
Turnaround time is typically 1-3 weeks after receipt of the pump at our service center.
We supply custom packaging that enables the user to send in the pumping module and not have to ship the motor. This saves shipping costs, protects the module from damage, and simplifies package and logistics.