Scroll Labs Miniature Dry Floating Scoll Vacuum Pumps
Scroll Labs Pumps are an excellent choice to replace diaphragm pumps and rotary vane pumps in virtually all vacuum applications including OEM equipment, laboratory, R&D, medical equipment, GCMS, LCMS, and freeze drying.
Scroll Labs Series Compact Dry Scroll Pumps create their vacuum seal without the use of tip seals. Consequently, Scroll Labs Compact Dry Scroll pumps can be used in vapor pumping applications where conventional Scroll Pumps cannot be used. This is because the tip seals used in conventional scroll pumps may frequently swell, and/or degrade when exposed to high water vapor content or to a variety of chemical vapors. Scroll Labs Scroll pumps do not have a tip seal swelling problem because they do not have tip seals. Their vacuum seal is produced via expertly machined close tolerance components that provide the vacuum seal. Scroll Labs Compact Dry Scroll pumps are an excellent choice for analytical equipment and high water vapor vacuum applications and laboratory chemistry applications.
Benefits
Eliminates process interruption due to sudden diaphragm failure
Reduces maintenance frequency because diaphragms are eliminated
Eliminates possible oil contamination of the vacuum process stream
Eliminates possible tip seal PTFE dust contaminate of the vacuum process stream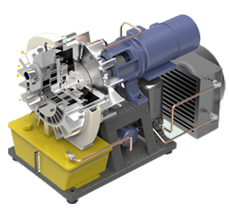 Features
Low-voltage 24VDC and 110VAC configuration
Flow rates from 5 lpm to 50 lpm
Base pressures down to 75 milliTorr
Very quiet low vibration operation
Compact footprint typically smaller than equivalent diaphragm or rotary vane pump