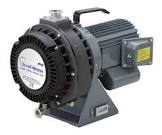 SynSysCo is a global distributor for all Anest Iwata Dry Scroll Vacuum pumps which includes the Anest Iwata Scroll Meister ISP-250 pump.
The ISP-250 Pump is cool, quiet, and highly efficient due to its unique patented balanced design.
The Benefits of Oil-Free Pumping are many and the Anest Iwata ISP-250 pump may be the immediate solution to oil contamination and disposal issues presented by your existing oil lubricated pumps.
Typical applications for the ISP-250 include:
Scanning Electronic Microscopes
Metrology
Microscopy
Helium Leak Detectors
Technical Data
Units
Anest Iwata ISP-250
Anest Iwata ISP-250E-SV
Anest Iwata ISP-250E-TV
Displacement (50Hz)
CFM (LPM)
8.8 (250)
8.8 (250)
8.8 (250)
Displacement (60Hz)
CFM (LPM)
10.6 (300)
10.6 (300)
10.6 (300)
Operating Temperature Range
o - C
5C~40C / 41~104
Ultimate Pressure
mTorr )Pa)
12
1.6 x 10-2 (1.6 Pa)
1.6 x 10-2 (1.6 Pa)
Motor Power Rating
kW/HP
4
Voltage
1-Phase
100/115/200/230V
100/115/200/230V
Voltage
3-Phase
200/208/230/380/
415/460V
200/208/230/380/
415/460V
Noise Level (w air flush)
dB A
66
Weight
lbs. (kg)
55 (25)
55 (25)
51 (23)
Dimensions (LxWxH)
inches
mm
10x15.75x13.25
252x400x336
397 × 264 × 338
397 × 264 × 338
Inlet Connection
NW
25
Outlet Connection
16
16
Water Handling
g/day
25
25
25
Remarks
RoHS2/CE compliant,
CSA certified
RoHS2/CE compliant,
CSA certified
For pricing and answers to your questions,
please call our Sales Department at 866-DRY-PUMP (866-379-7867)