Dry Air Compressors for Science and Industry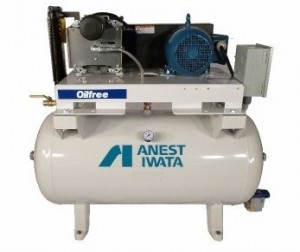 Oil-Less Reciprocating OFT Series
Durability & Oil-Less
The OFT Series has no oil and therefore requires no oil maintenance. Our unique composite piston, made from thermosetting resin, creates a very durable compressor.
Two-way fan cooling system eliminates excessive heat
Two-stage compression on 7.5-15HP
Large capacity filter
TEFC motor and belt guard standard on all models.
Oil-Free Scroll Air Compressors SLB / SLT / SLTE / SLP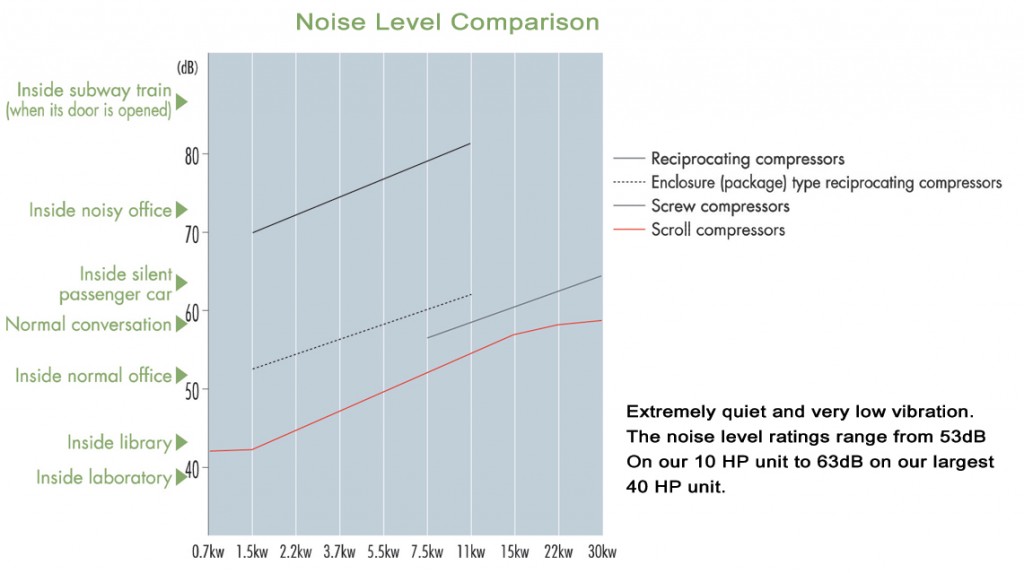 Completely Oil-Less
Our line of scroll compressors do not contain any oil.
No oil maintenance, oily-waste discharge or disposal costs.
Quiet & Reliable
Noise levels between 50dB – 72dB
Very low torque fluctuation
Maintenance until 10,000 running hours
Flexibility
Three different styles:  Open-tank mount, enclosed-tank mount and base-mount style
Membrane dryer, various size filters, auto drain and different size tanks also available
Safe
TEFC motor and belt guard standard
Integrated after-cooler to reduce temperature
Oil-Less Scroll Tankmount Oil-Less Scroll Enclosure / SLP Series
Completely Oil-Less
SLP Series does not have any oil or water for lubrication
No oil maintenance or oily waster discharge from receiver tank
Safe
Backup function:  If one pump has a failure, the other pumps will back it up to prevent any air loss
Flexibility for various sizes ranging from 10HP-40HP
Multiples of 5HP pump i.e. the 20HP unit (4 x 5HP pumps)
For pricing and answers to your questions,
please call our Sales Department at 866-DRY-PUMP (866-379-7867)