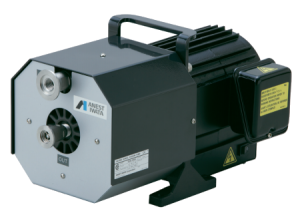 SynSysCo is a global distributor for Anest Iwata Dry Scroll Vacuum pumps which includes the Anest Iwata DVSL-100 pump.
The DVSL-100 Pump is designed for High Vapor Loading conditions (100 grams / day) because their bearings are completely Isolated from the vacuum stream.
There is no risk of back migration of bearing lubricant into the vacuum area.
Typical application for the DVSL-100 include:
Technical Data
Units
Anest Iwata DVSL-100
Displacement (50Hz)
CFM (LPM)
3.5 (100)
Displacement (60Hz)
CFM (LPM)
4.2 (120)
Operating Temperature Range
o - C
0 - 40
Ultimate Pressure
mTorr )Pa)
150 (20)
Motor Power Rating
kW/HP
0.35 / 0.47
Voltage
-
(1-phase) 115/230V
Noise Level (w air flush)
dB A
59 (68)

Weight
lbs. (kq)
41 / 18.5
Dimensions (LxWxH)
inches
mm
14.9x9.5x9.3
378x240x236
Inlet Connection
NW
25
Outlet Connection
16
16
Water Handling
g/day
100+
Air Flush Flow Rate
l/min
1.02 l/min
For pricing and answers to your questions, please call our Sales Department at 866-DRY-PUMP (866-379-7867)
Want to gain a deeper understanding of how our OMNI Helium Compressors run multiple cryogenic pumps, from multiple manufacturers, on the same tool at the same time?
Download this FREE PDF or watch our OMNI® Solutions Video.