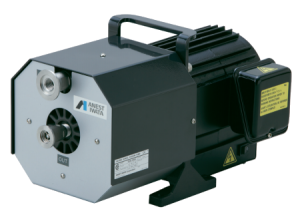 SynSysCo is a global distributor for Anest Iwata Dry Scroll Vacuum pumps which includes the Anest Iwata DVSL-100 pump.
The DVSL-100 Pump is designed for High Vapor Loading conditions (100 grams / day) because their bearings are completely Isolated from the vacuum stream.
There is no risk of back migration of bearing lubricant into the vacuum area.
Typical application for the DVSL-100 include:
Technical Data
Units
Anest Iwata DVSL-100
Displacement (50Hz)
CFM (LPM)
3.5 (100)
Displacement (60Hz)
CFM (LPM)
4.2 (120)
Operating Temperature Range
o - C
0 - 40
Ultimate Pressure
mTorr )Pa)
150 (20)
Motor Power Rating
kW/HP
0.35 / 0.47
Voltage
-
(1-phase) 115/230V
Noise Level (w air flush)
dB A
59 (68)

Weight
lbs. (kq)
41 / 18.5
Dimensions (LxWxH)
inches
mm
14.9x9.5x9.3
378x240x236
Inlet Connection
NW
25
Outlet Connection
16
16
Water Handling
g/day
100+
Air Flush Flow Rate
l/min
1.02 l/min
For pricing and answers to your questions,
please call our Sales Department at 866-DRY-PUMP (866-379-7867)