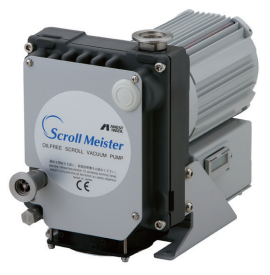 SynSysCo is a global distributor for all Anest Iwata Dry Scroll Vacuum pumps which includes the Anest Iwata Scroll Meister ISP-50 pump.
The ISP-50 Pump is cool, quiet, and highly efficient due to its unique patented balanced design.
The Benefits of Oil-Free Pumping are many and the Anest Iwata ISP-50 pump may be the immediate solution to oil contamination and disposal issues presented by your existing oil lubricated pumps.
Typical applications for the ISP-50 include:
Technical Data
Units
Anest Iwata ISP-50
Displacement (50Hz)
CFM (LPM)
1.8 (50)
Displacement (60Hz)
CFM (LPM)
2.1 (60)
Operating Temperature Range
o - C
0 - 405C~40C / 41~104
Ultimate Pressure
mTorr )Pa)
110
Motor Power Rating
kW/HP
1
Voltage
1-Phase
100/115/200/230V
Voltage
3-Phase
N/A
Noise Level (w air flush)
dB A
57

Weight
lbs. (kq)
12

Dimensions (LxWxH)
inches
mm
124.80x61.02x89.37
317x155x227
Inlet Connection
NW
25

Outlet Connection
16
16
Water Handling
g/day
3

For pricing and answers to your questions, please call our Sales Department at 866-DRY-PUMP (866-379-7867)
Want to gain a deeper understanding of how our OMNI Helium Compressors run multiple cryogenic pumps, from multiple manufacturers, on the same tool at the same time?
Download this FREE PDF or watch our OMNI® Solutions Video.